Archived 2004 Cross Country Page!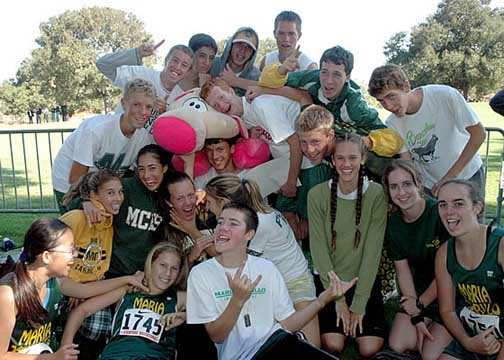 1/4/05
Sadly, the 2004 Cross Country season is at an end. But, we will take many great memories with us. There is no question that this was the best season of any sports team in the history of Maria Carrillo High School. Both teams destroyed the local competitions to win their second straight league titles, as did the JV athletes. The girls dominated at the North Coast Section meet as well by being the first Carrillo XC team to win a Section title, and the guys finished a strong third behind two of the top 5 teams in the state. Both squads earned a berth to the State Championships, where the girls took the runner-up spot, and the guys took a 12th place finish. Both are the best ever finishes by a Carrillo XC team. Both squads will also go down in local history, as the girls ran the 4th fastest time ever at Spring Lake, and the guys ran the 6th fastest time ever. Also, scores of local individual bests were performed on various courses, and victories at many other invitationals, including the prestigious Woodbridge and Stanford Invites, added to this unforgettable season.
There are two people who deserve more thanks than anyone else on this squad, and those are our coaches: Danny and Jenny Aldridge. Not only are they good coaches in that they are knowledgable about the sport (Danny is an ex professional and sub 4 minute miler, among other thigns, and Jenny is a 1600m state champ and ex national record holder in the 2000m steeple chase), but more importantly they are good coaches because they make it fun. They are very down to earth and enjoyable to be around. What other teams out there will go hang out with their coaches outside of running? Our team is so great because we are family, and Danny and Jenny are our family too. I know all of this is cliché, but it is all true. Congrats to all who made the All Redwood Empire teams this year, we had more than any other team by far! And I think its the only time a JV athlete has made it. Great job Anton! Now, here are the awards from our post-season party and the All Redwood Empire selections!
All Redwood Empire
Athletes of the Year:
Amy Robinson and Leanne Fogg
First Team:
Kristin Fladseth, Jacqui Wentz, Kristen Sanzari, Michael Brew, and Alex Wolf-Root
Second Team:
Logan Ensign and Diego Moulton
Honorable Mention:
Tiffany Roberts, Jessica Chapman, Andy Roth, Tim Cumbo, Ryan Aldridge, and Anton Karman
Coach of the Year:
Danny Aldridge (and Jenny Aldridge!)
2004 Cross Country Awards
Road Runner Awards:
Varsity males: Michael Brew, Alex Wolf-Root
Varsity females: Amy Robinson, Kristen Sanzari, Leanne Fogg
JV male:Anton Karman
JV female:Kendra Cheney
Other Awards
Coaches Award Varsity:Kristin Fladseth
Coaches Award JV:Jason Kitchen
Most Improved: Jacqui Wentz
Freshmen of the year: Brett Collett and Alicia Leuth
Scholar athlete Varsity male:Logan Ensign
Scholar athlete Varsity female:Kristin Fladseth
Athlete of the meet awards:
Rancho: Andy Roth, Tiffany Roberts
Ed Sias: Leanne Fogg, Jason Kitchen
Woodbridge: Kristen Sanzari, Diego Moulton
Stanford: Jacqui Wentz, Chris Bendana (F/S), Ryan Aldridge
Ekiden Relays: Michael Brew, Matt Lanz, Kristin Fladseth
Clovis: Anton Karman (F/S), Alex Wolf-Root
NBL: Tim Cumbo, Kristen Sanzari
NCS: Amy Robinson, Jessica Chapman, Logan Ensign
State: Leanne Fogg, Alex Wolf-Root
P.S. This site will be updated over the course of the next month or two to get ready for track. Check back for some cool new features.
P.P.S. There have been some issues with the pictures. I will do the best to meliorate this situation without the use of any more money... Sorry for the inconvenience.
P.P.P.S. On the topic of pictures, if you want a specific one for you, or just a different one, please let me know and I would be glad to change it.
11/28/04
Though some may be disapointed with the results from the State Championships yesterday, both Carrillo squads made history, even if we didn't perform up to our own expectations. The girls went in with all the pressure in the world, as they were expected to win in a dominating fashion. Though they didn't take the title, they still performed better than any other Carrillo team at state by snagging a very impressive 2nd place finish. It is also the second best performance ever by a Redwood Empire team. As an individual, Leanne Fogg made the top all-time list of Redwood Empire athletes on the Fresno course at number 18. The guys also made history with the best ever Carrillo guys team finsh at state, placing one place higher than last years 13th. Though it was an off day for Carrillo athletes, we still showed that we were one of the top teams in the state of California.
Check back in a few weeks or so for a season recap.
11/22/04
The girls DESTROYED the competion at the NCS championships. They won with a stellar 29 points over Miramonte (69), and they averaged 46 seconds faster per person! Crazy! Amy ran an insane race, running hard enough that she collapsed. Yet she still finished a phenominal third! Leanne lead the girls with a 2nd place finish, and Kristen was a solid 4th. All five of our scorers ran fast enough that they would have been allowed to go on to state as individuals even if they didn't qualify as a team. We also had 5 girls under 19 minutes. Only one team even had two girls run this fast. All in all, they smoked the competition, and are ready to dominate at state.
The guys team also advances to State with our 3rd place finish. Nothing specacular like the girls, but still a good finish. We earned a berth to the State meet and brought home some hardware, so all's good. And, very importantly, we now know Campo and Mira runners we need to and can beat. We'll get revenge at State!
A CLEAN SWEEP!
JV Girls: 18 Varsity Girls: 17
JV Boys: 15 Varsity Boys: 20
Great job to all at the 2004 North Bay League Championships! We trained hard all year, and it payed off! The first race of the day was the JV girls, and they set the standard for the rest of the teams. They scored 18 points with a 26 point margin of victory over 2nd place Montgomery. Senior Kendra Cheney also walked away with a prestigious NBL JV title. Next up were the JV guys. They had been ready for this all season, with a perfect 15 points at every league meet. This was no exception. With a little help from an injured Ryan, they went 1-6, to score a perfect 15 points at League Finals! Sophmore Anton (Karma) Karrman earned himself a nice NBL JV title. Since our JV team did so incredebly well in their race (won by 52 points) I decided to see what would have happened if the ran Varsity instead. They would have placed third, only 10 points behind Monty and 62 behind our Varsity squad. Next up we had the Varsity girls. They scored a very impressive 18 points, with only one athlete breaking up their top 5. Their team time was also the 4th in history, and this was one muddy course! But, what else would you expect from a state favorite? Sophmore Kristen Sanzari took this race by one second over sophmore teammate Leanne Fogg, putting them at 12th and 13th all-time individually. Last up was the Varsity guys, and we did not want to disapoint. But, it is tough trying to compare with those other squads, and we scored a Carrillo-high of 20 points. Also, we were the only squad to not bring back an individual title. But, thats fine, as we solidly destroyed the competition and took the 6th all-time team-time, by one second over 2002 Montgomery. The girl's margin of victory was also the largest in NBL girls history.According to Danny, this is the first time that any school has ever won all 4 races at NBL. Also, this is the second time in history that any school has won both Varsity NBL titles for two years in a row. All in all, yesterday was a phenominal day for Carrillo athletes. Way to make history guys!
11/8/04
I'm a frickin' genius! I (finally) figured out how to make it so that when you click on a picture on this site it will open a new window with a bigger picture, cause I'm just that awesome. It will take a while to update all pictures so that they do that, but untill then some of them do this, so try em out! Eventually, there will be many, many more pictures on the site, and they will all be able to do this, and it will be good.  
11/6/04
Sorry that it has taken so long to update. Lack of sleep can do that... Anywho, On Wednesday we had our 4th and final league meet, against Rancho Cotate and Cardinal Newman/Ursuline. Congrats to all for the victories. Not only did we win all 4 races, but Amy and Michael also set the course records!!! (This is a new course, because Newman changes their course every time!!! but still...) And it still gets better! Not only did the JV guys win their race, but if we scored them against Newman's Varsity, they would have won too! Insane! Our JV could medal at league for Varsity. Is that hardcore or what!?
10/29/04
I just read a sweet article from a SoCal paper that you all should read. Check it out here.  
10/27/04
Okay, I finally got the results from the Ekiden Relays, check them out in the results section. I also got the results from todays meet, and they are now posted, yay! Again, all four teams won their respective races, and most importantly we don't have to race at our home course again this year! Even better, this was the last time I EVER have to race it! yay! Hehe, sorry, but yea, our course sucks. Next week we go against Newman/Uruline and Rancho, then it's NBL time! YAY! Okay, I have no idea where I am going with this, cause I am really out of it and yea. Good night.  
10/23/04
Sorry it has taken so long to update, but lots has happened in the last week. Our Varsity teams are both now 4-0 in league, and so is the JV guys team. The JV girls are now 3-1. We murdered at the Ukiah/Santa Rosa meet, so good job to all. V Girls:15 points V Boys: 15 points JV Boys: 15 points JV Girls: 20 points (I think). Unfortunately, I have no official results, or even unofficial, so I have no idea about people's times. If any of you somehow get that information, please email it to me.
Today was also the Eikedon Relays. It was crazy. The way it works, is you have a five person team. The legs are these distances: 2000m-1500m-1500m-2000m-3000m. The girls ran a savage race, beating second place by about 2 and a half minutes, I think. All three guys teams did well also. The Fab 5 won the very close race by just under a second, and White Lightning was a respectable 3rd. The JV squad, with help from Kristin, Logan, and Tim, took 7th. If I ever get results from this meet, or the last league meet, I will let you all know and post in results page, but don't count on it. Sorry.
Update from Carrillo alumnus Tyler Kelly (2nd all-time Carrillo 100m and 200m)! He is now becoming a solid 400m-800m runner at Chico! Keep up the good work Tyler!
10/14/04
First league meet was on Wednesday, and we did awesome! Undefeated in league so far! Even though it was all ashy and really hot, both Varsity squads and the JV guys scored a perfect 15! Though we only scored against Montgomery and Elsie Allen, there were a total of 10 teams on the course at the same time! There was another NBL league meet going on and a CMC mini invitational. And, if scored together, both Varsity squads and JV guys would have won! Overall, it was a great way to start our quest to a guys and girls repeat!
10/10/04
Clovis... Great job to the frosh/soph guys team, who took 2nd out of 17 teams, and many of those teams had varsity runners in the frosh/soph race! Great race guys! The girls unfortunately didn't have a full squad, but the four who went tore up the course in the Varsity small school race. Matt Lanz ran by himself in the Varsity small school race, doing very well at the Varsity level. And the Varsity guys... well, we have to learn to go out faster than our frosh/soph team, and yea, we will be ready for this course come November 27th, don't worry!
10/2/04
9/28 results are now up
9/29/04
Another interlock today. Great job guys, three team sweeps! 1-4, 6 JV girls, 1-13 JV guys, 1-5 Varsity girls, and 1-6 Varsity guys. Congrats to all.  
9/26/04
Just a quick note. Yesterday was Amanda's last day on the team, because she is moving schools on monday. We are all sorry to see you go, and hope you have a great time at your new school.  
9/25/04
STANFORD! YEAAAAAAAA! Great job to all who ran at the Stanford Invitatoinal today! We kicked ass!!! The guys won and girls took 2nd! The JV teams also held their own, with the guys taking 2nd and the girls 6th. 5 top individual awards also went too Pumas! Good job today guys!
Also, saturday saw the fierce battle of the stomachs, between Tim "Speedster" Cumbo and Brandon "Freshman" Smonski. Both ate 5 sizzling hot peppers at Chevy's, but the Speedster won by a judges decisions, he just wouldn't flinch! But, being a freshman, Smonski was the man of the day, earning the name "boca del fuego." Congrats (I guess) to both, though WHY they did something this stupid we will never know...
9/24/04
WOW! THIS JUST IN! THE GIRLS TEAM IS NOW RANKED 2ND IN ALL OF CALIFORNIA AND 23RD IN THE ENTIRE NATION! THIS MEANS THAT THEY ARE EXPECTED TO BE AN AUTOMATIC QUALIFIER FOR THE FIRST EVER NIKE TEAM NATIONALS ON DECEMBER 4TH (AMY'S BDAY)! CHECK IT OUT!
Update! I just got an email from a MCHS alum, who, going by the name "Kernal Sanders" (David Wellman?), shared valuable information about The Cow with me. Check out The Cow Palace for more new info!
9/23/04
Good job to all who competed at our first interlock meet at spring lake. Some good times were posted by many athletes, and all 4 teams won! The girls even had a perfect 15, great job! Good luck to the varsity and jv squads at Stanford this weekend, it is going to be awesome! Here is a link to the preview for Stanford. The guys "enjoyed a superb summer of training and enters as the sure favorite here," while the girls are expected to prove that they are a "leading contender" for a state title.
Also, Lynbrook High School (yea I've never heard of it either) has posted a list of Nor-Cal Runners to watch. Check it out here. 2 guys and 4 girls from Carrillo made the list. It's nothing 2 special, but check it out if you're interested.
9/19/04
WOODBRIDGE!!!!!!! YEA! HOLY COW! The girls are AWESOME! The girls took first last night at the Woodbridge Invite, beating many incredible teams, inluding California #4 Murrieta Valley. Great job to Kristen Sanzari for her 4th place finish, running the 3mile course in an insane 17:30, only 24 seconds behind the leader. We had all 5 of our scorers under 19 minutes as well! Great job! Also, before this race, the girls were ranked #6 in the entire state of California, in all divisions, but we expect that this should jump after this race. We may very well see the girls at Nike Team Nationals if they keep up running like this. But remember, it's still September! The guys also had a very solid performance, placing 13th in one of the most stacked fields there is going to be the entire year. There were 4 or so potential Nike Team National teams there, and many California state-ranked teams, so the 13th place is pretty impressive. Michael Brew led the guys with a 15:46, so great job to him.
Viking! Good job to everyone who competed at Viking yesterday as well. Both guy's and girl's Frosh/Soph teams took third, and that was without any of our varsity squads running. The guys also won the open race. Great job to all who ran this weekend!!!
9/13/04
Ed Sias! Good job Carrillo. Though we are no longer undefeated, we showed the NCS what we are capable of. And to think, we did it without really resting for the race, and the girls were without Kristen Sanzari and the guys without Alex Wolf-Root and Logan Ensign. I'm sure that if Kristen was there the girls would have won. Period. But thats fine. We let these teams feel all high and mighty now; it will just hurt more when Carrillo takes both golds at NCS. To be fair, Miramonte did run very well in both races, but that is a different story for some other website. Not only did our varsity runners do well, though, but our JV and Frosh/Sophs did phenominal. The younger Pumas are looking very strong. Looks like Carrillo will have a great team for years to come if these young athletes can keep it up.
But, now on a different note... Today (September 13th) is a very special day. Do you know what it is? Guess. No, try again. Closer. That's it! It's DANNY'S BIRTHDAY!!1 HAPPY BIRTHDAY DANNY! YAY! HAPPY BIRTHDAY TO YOU, HAPPY BIRTHDAY TO YOU, HAPPY BIRTHDAY DEAR DANNY, HAPPY BIRTHDAY TO YOU! If I were more awake I'd type something funny and embarrasing for you, but, well, yea... But happy birthday, hope we can make it as fun for you as you make our season successful for us. You are a kick ass coach, and I could go on for a long time about how awesome you are to us and such, but I really don't feel like it now. So I won't. But happy bday, and enjoy!
9/5/04
Great job to everyone who survived the Second Annual 24 Hour Relay remotely sane! That was some hardcore no-sleep action! We logged 220 miles over the 24 hour time period, beating last year's record by 5 miles! And we all know we even got more, cause you just know people forget to mark their miles come 2 am. Michael Brew, Logan Ensign, Alex Wolf-Root (yay me!), and Greg Fogg all deserve special recognition as they (we) were the only 4 insane enough to stay up for the entire run-a-thon. What were they (we) thinking?! It was a great bonding experience and some intense training. Thanks to everyone who participated, and is not getting sleep like a good smart individual while I'm still up updating this site for all ya'll to read, though I know no one will, and I should be in bed cause I'm hella insane right now, but yea... ahahahahahah, sleep deprivation is bad! But still, Pumas, how do you feel?! *We feel good! Oh we feel so good! UH!*  
9/3/04
Mad props to everyone who competed at the Rancho Cotate Invite on September 3rd. All the MCHS teams did extremely well. We truly showed the rest of the Redwood Empire that Carrillo is going to be a dominant power for a long time to come. Not only did both Varsity teams win, but also our JV guys won, and I'm sure if the JV girls had a complete squad they would have won too. (We ran two JV girls in the Varsity race...) Special congrats go out to Michael Brew. Amy Robinson, and Jason Kitchen. Each of these fine runners won their respective races and dominated on the competition. For more specific results, check out the results page up top.
This site is still in progress, obviously, so check back every now and then for updates. Thanks for stopping by
-Alex Wolf-Root
2004 MCHS XC Results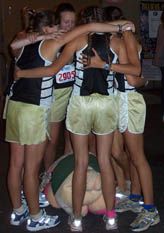 November 27, 2004: California State Championships (5k)
Though not the way we wanted to finish off the season, we still took home a 2nd place finish with some decent marks. Full results of the state meet can be found here.
Girls D3
11 Leanne Fogg: 18:47
13 Amy Robinson: 18:55
41 Kristen Sanzari: 19:35
54 Jacqui Wentz: 19:48
68 Kristin Fladseth: 19:56
91 Jessica Chapman: 20:16
140 Tiffany Roberts: 21:22
Boys D3
53 Alex Wolf-Root: 16:39
86 Logan Ensign: 17:02
92 Michael Brew: 17:04
95 Diego Moulton: 17:08
124 Andy Roth: 17:32
131 Ryan Aldridge: 17:44
132 Tim Cumbo: 17:45
November 20, 2004: North Coast Section Championships (3 mi)
Again, everyone did phenominally at NCS on Saturday. Leanne Fogg led the individual accomplishments with a very impressive 2nd place finish to lead our team to victory, and Amy Robinson and Kristen Sanzari also did great with their 3rd and 4th place finish respectively. Full results can be found at dyestatcal.
Girls D3
2 Leanne Fogg: 18:11
3 Amy Robinson: 18:18
4 Kristen Sanzari: 18:22
9 Jacqui Wentz: 18:52
11 Kristin Fladseth: 18:59
13 Jessica Chapman: 19:23
44 Tiffany Roberts: 20:54
Boys D3
10 Alex Wolf-Root: 16:06
12 Michael Brew: 16:08
16 Logan Ensign: 16:15
21 Diego Moulton: 16:37
30 Ryan Aldridge: 16:51
35 Tim Cumbo: 16:55
40 Andy Roth: 17:04
November 12, 2004: North Bay League Championships (2.97 mi)
We came, we ran, we conquered. All the info is on the frontpage. Full results for guys and girls curtesy of the Press Democrat. Click here for the PD's story.
JV Girls
1 Kendra Cheney: 21:31
2 Makala Bear: 21:59
3 Alicia Leuth: 22:12
4 Jane Halahan: 23:03
8 Katie Bryan: 23:58
13 Yiding Zhu: 24:25
20 Andrea Leahe: 25:24
31 Maddy Titone: 27:10
JV Guys
1 Anton Karrman: 17:12
2 Ryan Aldridge: 17:16
3 Brett Collet: 17:19
4 Brandon Smonski: 17:26
5 Jason Kitchen: 17:30
6 Matt Lanz: 18:34
9 Paul Mandanis: 19:20
13 Matt Lucia: 19:26
14 Ben Stone: 19:32
16 David Hilton: 20:06
23 Zach Skabelund: 20:34
25 Dane Skabelund: 20:49
29 Chris Myers: 21:00
43 Cooper Arbios: 22:17
Varsity Girls
1 Kristen Sanzari: 18:05
2 Leanne Fogg: 18:06
4 Amy Robinson: 18:57
5 Krstin Fladseth: 19:03
6 Jacque Wentz: 19:16
12 Jessica Chapman: 20:17
14 Tiffany Roberts: 20:28
Varsity Guys
2 Alex Wolf-Root: 16:08
3 Michael Brew: 16:14
4 Tim Cumbo: 16:16
5 Logan Ensign: 16:18
6 Diego Moulton: 16:25
9 Andy Roth: 16:42
November 3, 2004: League Meet #4 at Cardinal Newman (2.7mi?)
All 4 squads won our final league meet, with the Varsity guys getting a perfect 15 and the Varsity girls getting an awesome 17. Anton and Jason also stepped it up to race Varsity, and both did awesome! They both beat Newman's 3rd and Rancho's first! Unfortunately, I don't have all the results, but here is what I do have:
Varsity Girls
1 Amy Robinson: 17:26
2 Kristen Sanzari: 17:46
3 Leanne Fogg: 17:49
5 Kristin Fladseth: 18:28
6 Jaque Wentz: 19:06
10 (1 JV) Jessica Chapman: 20:01
Varsity Guys
1 Michael Brew: 15:49
2 Logan Ensign: 15:52
3 Alex Wolf-Root: 15:53
4 Diego Moulton: 15:54
5 Tim Cumbo: 16:01
6 Andy Roth: 16:04
8 Anton Karrman: 16:35
10 Jason Kitchen: 16:40
October 27, 2004: League Meet #3 at home (2.7mi? dunno)
Good race vs Piner, at home, and I never have to race our home course again, thank goodness! Way too tired for commentary, so just results:
JV Girls
1 Jessica Chapman: 18:52
2 Kendra Cheney: 20:08
3 Jane Halahan: 20:09
4 Katie Bryan: 21:31
5 Yiding Zhu: 22:58
JV Guys
1 Anton Karrman: 15:16
2 Brett Collett: 15:23
3 Brandon Smonski: 15:49
4 Ty Olson: 16:00
5 Matt Lanz: 16:01
6 ? Lee: 16:19
7 Chris Bendana: 16:21
Varsity Girls
1 Jacque Wentz: 17:10
2 Leanne Fogg: 17:11
3 Kristen Sanzari: 17:11
4 Amy Robinson: 17:12
5 Krisin Fladseth: 17:12
6 Tiffany Roberts: 18:51
7 Alicia Leuth: 18:51
Varsity Guys
2 Michael Brew: 14:10
3 Logan Ensign: 14:15
4 Alex Wolf-Root: 14:23
5 Andy Roth: 14:33
6 Ryan Aldridge: 14:38
7 Diego Moulton: 14:42
8 Tim Cumbo: 14:43
October 23, 2004: Ekiden Relays
Um yea, I pretty much explained this on the frontpage and I really don't feel good, so no commentary, sorry.
Since it was a relay, I will list the team's place, the overall time, and the time and order of each part of the relay. The order for legs is 2000m-1500m-1500m-2000m(1400m for girls, course monitor made a mistake)-3000m. I will also put, in parentheses, the place that the person was overall for his/her respective distance. Full results at dyestatcal.
Guy's race
1 Maria Carrillo A:32:19:Logan Ensign:6:36(4)-Diego Moulton:4:51(1)-Matt Lanz:5:10(tie11)-Ryan Aldridge:6:37(5)-Michael Brew:9:07(1)
3 Maria Carrillo B:32:47:Tim Cumbo:6:42(6)-Anton Karma:4:57(4)-Jason Kitchen:4:56(3)-Andy Roth:6:44(7)-Alex Wolf-Root:9:28(6)
7 Maria Carrillo C:36:06:Brandon Smonski:7:00(tie8)-Paul Mandanis:5:50(25)-Tim Cumbo:5:52(26)-Logan Ensign:7:15(13)-Brett Collet:10:05(7)
Girl''s race
1 Maria Carrillo A:34:29:Amy Robinson:7:19(2)-Jacque Wentz:5:41(2)-Kristen Sanzari:5:30(1)-Kristin Fladseth:5:10(1)-Leanne Fogg:10:49(2)  >
October 13, 2004: League Meet #1 at Spring Lake 2.97mi
2-0 in league! Great job all! Though conditions were terrible, we had some great performances by Carrillo athletes, and three of our four squads won! We had many Pr's, most notably an 18 second PR by Logan Ensign. Though I only do Athlete of the Meet for for invites and post-season races, Logan would have most certainly earned it for his performance yesterday. By the mile marker he took off with Brew, running very strongly the entire way. Good job to all!
JV Girls
1 Kendra Cheney: 22:46
3 Jane Halahan: 23:41
7 Yiding Zhu: ?
16 Katie Bryan: ?
JV Boys
1 Anton Karma: 18:33
2 Brandon Smonski: 18:26
3 Brett Collet: 18:43
4 Jason Kitchen: 18:50
5 Matt Lanz: 18:55
6 Chris Bendana: 19:02
7 Ty Olson: 19:47
9 Dane Skabelund: 20:10
10 David Lee: 20:40
11 Ben Stone: 20:51
14 David Hilton: 21:49
16 Matt Lucia: 22:54
18 Cooper Arbios: ?
Varsity Girls
1 Amy Robinson: 18:59
2 Kristen Sanzari: 19:16
3 Leanne Fogg: 19:19
4 Kristin Fladseth: 19:21
5 Jacque Wentz: 20:39
10 Tiffany Roberts: 22:17
Varsity Boys
1 Michael Brew: 16:20
2 Alex Wolf-Root: 16:27
3 Logan Ensign: 16:28
4 Andy Roth: 16:49
5 Ryan Aldridge: 16:55
9 Tim Cumbo: 18:02
October 9, 2004: Clovis Invite (5000m)





Frosh/soph brings home the hardware! They flew to a second place victory, only 15 points behind the winner, who ran 3 of their varsity guys in the frosh/soph race. Anton led the team with a 5th place finish with all 6 of the guys in the top 40. Though the girls only had 4 runners compete, three were in the top 10! And the guys, well, it's only October..... For full results go here.
Frosh/Soph boys small school
5 Anton Karma: 17:32
19 Jason Kitchen: 17:52
21 Chris Bendana: 18:00
24 Brett Collett: 18:07
34 Brandon Smonski: 18:33
36 Ty Olson: 18:38
Varsity girls small school
5 Kristen Sanzari: 19:15
7 Leanne Fogg: 19:30
8 Kristin Fladseth: 19:33
65 Tiffany Roberts: 22:01
Varsity boys small school
105 Matt Lanz: 18:28
Championship boys
38 Alex Wolf-Root: 16:37
46 Michael Brew: 16:44
64 Ryan Aldrige: 16:59
82 Logan Ensign: 17:14
88 Diego Moulton: 17:18
102 Andy Roth: 17:30
123 Tim Cumbo: 18:09
September 28, 2004: Interlock at Cardinal Newman (2.9 mi)
Wow, did we dominate or what. All four teams scored a perfect 15 points. The Varsity girls went 1-5, Varsity boys 1-6, JV boys 1-13, and JV girls 1-4 and 6 (the person in 5th didn't have a complete team, so her score didn't count.) Getting a perfect 60 is really impressive, so great job to all. Full results can be found here.
JV Girls
1 Jessica Chapman: 20:43
2 Kendra Cheney: 21:21
3 Jane Halahan: 23:18
4 Katie Bryan: 23:49
6: Yiding Zhu 26:12
JV Boys
1 Anton Karma: 17:27
2 Jason Kitchen: 17:31
3 Chris Bendana: 17:32
4 Matt Lanz: 17:48
5 Brett Collet: 17:50
6 Brandon Smonski: 18:05
7 David Lee: 18:09
8 Robert Taylor: 18:14
9 Ty Olson: 18:21
10 Jonathan Lee: 18:22
11 Paul Mandanis: 18:46
12 Dane Skabelund: 19:07
13 Zach Skabelund: 19:21
17 David Hilton: 20:05
22 Matt Lucia: 20:43
29 Cooper Arbios: 23:52
Varsity Girls
1 Kristen Sanzari: 18:52
2 Amy Robinson: 18:53
3 Leanne Fogg 18:53
4 Kristin Fladseth: 18:53
5 Jacque Wentz: 18:59
11 Tiffany Roberts: 20:30
Varsity Boys
1 Michael Brew: 16:23
2 Alex Wolf-Root: 16:24
3 Logan Ensign: 16:27
4 Andy Roth: 16:28
5 Ryan Aldridge: 16:29
6 Diego Moulton: 16:29
8 Tim Cumbo: 16:52
September 25, 2004: Stanford Invite




It's tough to go into a meet expected to perform very well. It's even tougher placing well with all that pressure on you. Yet, all of the Carrillo squads placed very well yesterday, with both guys and girls expected to be one of the top teams. The girls took second by a very small margin, and the guys won it by an even smaller one. The JV guys also took second, and the JV girls took 6th. (The JV ran in a combined race with JV from divisions 3, 4, and 5.) Full results can be found here
Girls Varsity
9 Amy Robinson: 19:09
14 Leanne Fogg: 19:16
27 Kristin Fladseth: 20:01
28 Kristen Sanzari: 20:08
34 Jacque Wentz: 20:20
65 Alicia Leuth: 21:21
96 Amanda Frank: 22:42
Boys Varsity
17 Michael Brew: 17:00
18 Alex Wolf-Root: 17:03
33 Ryan Aldridge: 17:24
35 Logan Ensign: 17:25
37 Diego Moulton: 17:27
41 Andy Roth: 17:35
Girls JV
4 Jessica Chapman: 12:08
33 Jane Halahan: 13:50
36 Katie Bryan: 13:57
59 Yiding Zhu: 15:00
71 Maddy Titone: 15:59
Boys JV
3 Anton Karma: 10:16
7 Chris Bendana: 10:27
8 Jason Kitchen: 10:27
19 Ty Olson: 10:54
21 Matt Lanz: 10:55
22 Brandon Smonski: 11:03
27 Jonathan Lee: 11:08
September 22, 2004: Interlock at Spring Lake (2.97 mi)
Our first time this season on the 2004 league championship course was a good one. All four teams easily crushed the competition. JV Results to come soon!
Girls Varsity
1 Amy Robinson: 18:47
2 Leanne Fogg: 19:30
3 Kristin Fladseth: 19:31
4 Kristen Sanzari: 19:42
5 Jacque Wentz: 19:50
11 Alicia Leuth: 20:50
Boys Varsity
2 Michael Brew: 16:33
3 Alex Wolf-Root: 16:38
5 Logan Ensign: 16:46
6 Ryan Aldridge: 16:59
7 Diego Moulton: 17:01
8 Andy Roth: 17:01
15 Jason Kitchen: 17:50
21 Matt Lanz: 18:29
Boys JV
1 Anton Karma: 18:09
2 Robert Taylor: 18:22
3 Chris Bendana: 18:42
5 Doug Anderson: 18:48
6 Ty Olson: 18:48
8 Brandon Smonski: 19:03
9 David Lee: 19:08
10 Paul Mandanis: 19:26
12 Dane Skabelund: 19:45
17 Zach Skabelund: 20:10
20 David Hilton: 20:25
23 Ben Stone: 20:43
26 Bret Collet: 21:27
39 Chris Myers: 22:07
43 Matt Lucia: 22:18
56 Cooper Arbios: 24:36
September 18, 2004: Woodbridge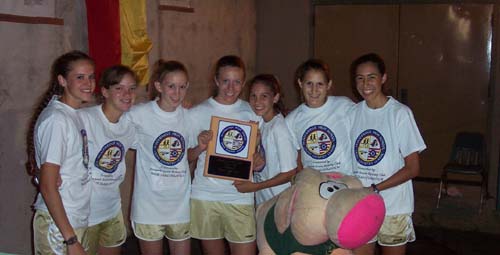 RACING UNDER THE LIGHTS WAS AWESOME, PERIOD! Okay, so now for some results. Again, as the front page says, the girls took FIRST and the guys took 13th! And this is in the sweepstakes race mind you, there were hundreds of schools there, all day, and we did that well in the fastest races of the day. Kristen Sanzari led the girls with a 4th place finish, leading 6 of the girls to a top 100 finish. Michael Brew led the guys with a 58th place finish, leading 5 guys to a top 100 finish. Full results can be found at Woodbridge's website.
Girls Sweepstakes: 3 miles
4 Kristen Sanzari: 17:30
14 Leanne Fogg: 18:08
16 Amy Robinson: 18:12
38 Kristin Fladseth: 18:38
47 Jaque Wentz: 18:54
79 Alicia Leuth: 19:38
111 Tiffany Roberts: 20:34
Boys Sweepstakes: 3 miles
58 Michael Brew: 15:46
71 Alex Wolf-Root: 15:56
86 Diego Moulton: 16:07
87 Logan Ensign: 16:08
88 Tim Cumbo: 16:09
120 Andy Roth: 16:29
131 Ryan Aldridge: 16:42
September 18, 2004: Viking
As our Varsity was away in Irvine, our JV carried the burden of representing Carrillo at the Viking Opener, and I must say they did us proud. The open boys won, and the Frosh/Soph of both genders took third! Remember, this was against all other teams top runners. Looks like Carrillo will be strong for a long while after this!
Senior Boys: 2 miles
35 Dane Skabelund: 12:36
Junior Boys: 2 miles
19 Matt Lanz: 11:51
22 Doug Anderson: 11:57
35 Paul Mandanis: 12:40
36 Ben Stone: 12:44
Frosh/Soph Boys: 2 miles
7 Jason Kitchen: 11:26
8 Anton Karma: 11:27
13 Chris Bendana: 11:35
15 Brett Collett: 11:38
24 Ty Olson: 12:01
Jr/Sr Girls: 2 miles
10 Kendra Cheny: 13:48
Frosh/Soph Girls: 2 miles
3 Amanda Frank: 13:20
11 Jessica Chapman: 13:55
24 Katie Bryan: 15:12
43 Yiding Zhu: 16:16
Open Boys: 2 miles
4 Brandon Smonski: 12:02
7 David Lee: 12:06
8 Jonathan Lee: 12:09
14 Zach Skabelund: 12:45
17 Ty Olson (again): 12:54
19 Bret Collet (again): 12:58
24 Chris Myers: 13:12
25 David Hilton: 13:13
34 Matt Lucia: 13:20
September 11, 2004: Ed Sias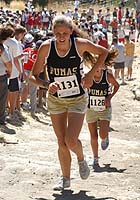 Good job to all who participated at the Ed Sias Invitational. I hear it is an extremely difficult 2 mile race, with a massive hill at the very end. Though we didn't win, we still did amazing, especially considering that we did not rest, the girls were without Kristen Sanzari, and the guys were without Alex Wolf-Root and Logan Ensign. Special congrats go out to Jason Kitchen and Matt Lanz for having what it takes to compete on the varsity squad. Full results can be found here
Varsity Boys small school:
12. Michael Brew: 10:57.2
21. Tim Cumbo; 11:22.6
26. Andy Roth: 11:31.8
27. Ryan Aldridge : 11:36.2
33. Diego Moulton: 11:50.5
41. Jason Kitchen: 12:08.5
56. Matt Lanz: 12:30.8
Varsity Girls:
8. Amy Robinson: 13:12.0
9. Leanne Fogg: 13:12.4
22. Kristen Fladseth: 13:39.0
34. Jacqui Wentz : 13:53.9
49. Tiffany Roberts: 14:13.5
50. Alicia Leuth: 14:14.8
F/S Boys:
22. Chris Bendana: 12:18.0
23. Antone Karma: 12:20.8
25. Brett Collett: 12:22.4
44. Ty Olson: 12:49.9
45. David Lee: 12:50.9
FS/JV Boys Unlimited:
11. Paul Mandanis: 13:21.1
20. David Bridgeman: 13:45.1
44. Matt Lucia: 14:23.7
47. Anthony Brown: 14:31.9
F/S Girls:
2. Amanda Frank : 14:29.1
3. Jessica Chapman: 14:47.9
4. Kendra Cheney: 14:49.6
29. Jane Halahan: 16:09.1
111. Maddy Titone: 19:15.0
September 3, 2004: Rancho Invitational
Congrats to all today, way to show the Redwood Empire what MCHS XC can do! All performed well on the flat, 2.75 mile course. 3 individual winners, great job! And two top 3 sweeps, and one top 2 finish. Awesome! In every race where we had a complete team we won! Don't forget, it was a sizzling 95 degrees outside! Great job Pumas!
For a little more indepth look into the meet, go here or here  
Varsity Boys:
1 Michael Brew: 14:54
2 Alex Wolf-Root: 15:04
5 Logan Ensign: 15:24
6 Andy Roth: 15:29
7 Tim Cumbo: 15:38
9 Ryan Aldridge: 16:04
24 Diego Moulton: 16:38
74 Dane Skablund: 20:58
Varsity Girls:
1 Amy Robinson: 17:15
2 Kristin Fladseth: 17:32
3 Kristen Sanzari: 17:37
6 Leanne Fogg: 17:45
11 Tiffany Roberts: 18:53
13 Alicia Leuth: 19:11
21 Kendra Cheney: 19:52
24 Amanda Frank: 20:03
JV Boys:
1 Jason Kitchen MC 16:51
2 Matt Lanz MC 16:56
3 Ty Olson MC 17:00
9 Chris Bendana MC 17:24
10 Brett Collett MC 17:24
11 Brandon Smonski MC 17:40
12 D. Lee MC 17:46
13 J. Lee MC 17:50
15 Karrman MC 17:55
18 Zach Skablund MC 18:10
22 Paul Mandanis MC 18:33
23 Story MC 18:33
28 Bridgeman MC 18:50
44 Hilton MC 19:39
52 Chris Myers MC 20:12
54 Brown MC 20:13
93 Arbios MC 23:58
JV Girls:
4 Jane Halahan MC 21:52
20 Thorn MC 24:17
25 Katie Briant 24:46
26 McManus MC 24:52
MCHS Win-Loss Records 2004
Varsity Girls:
126-3
Winning Record!
Varsity Guys:
106-38
Winning Record!
Junior Varsity Girls:
37-19
Winning Record!
Junior Varsity Guys:
41-1
Winning Record!
Frosh/Soph Guys:
55-4
Winning Record!
Frosh/Soph Girls:
4-2
Winning Record!
Team Scores
State Championships
Varsity Girls: Place: 125, Maria Carrillo: 142, Oak Park: 162...
Varsity Guys: Servite: 134, Cabrillo: 137, Campolindo: 141...Maria Carrillo (12th): 342,...
NCS Championships
Varsity Girls: Maria Carrillo: 29, Miramonte: 69, Campolindo: 109...
Varsity Guys: Campolindo: 43, Miramonte: 69, Maria Carrillo: 89,...
NBL Finals
Varsity Girls: Maria Carrillo: 18, Montgomery: 70, Rancho Cotate: 84...
Varsity Boys: Maria Carrillo: 20, Montgomery: 62, Santa Rosa: 76...
Clovis
Varsity Guys: Madera: 91, Royal: 94, Jesuit: 157...Maria Carrillo (12th): 313...
Stanford
Varsity Girls: South Tahoe: 74, Maria Carrillo: 84, Corona Del Mar: 121...
Varsity Guys: Maria Carrillo: 119, Oak Park: 128, South Tahoe: 147...
Woodbridge
Sweepstakes Girls: Maria Carrillo: 90, Murrieta Valley: 96, Royal: 128...
Sweepstakes Guys: Royal: 124, Murrieta Valley: 127, Winter Park (Florida): 128...Maria Carrillo (13th): 308...
Ed Sias
Varsity Girls: Miaramonte: 114, Maria Carrillo: 118, San Ramon Valley: 133...
Varsity Boys small school: Miramonte: 48, Campolindo: 68, Maria Carrillo: 119...
Rancho
Varsity Girls: Maria Carrillo: 23, Montgomery: 107, RC: 120, A: 122, SR: 131, SM: 142, UR:186, SRC: 298, Pet: inc, StV: inc, H: inc
Varsity Boys: Maria Carrillo: 21, Healdsburg: 115, M: 116, SR: 117, CN: 139, A: 140, SRC: 181, P: 224, StV: 227, SM: 302, RC: inc